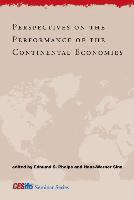 Edited by Edmund S. Phelps and Hans-Werner Sinn
MIT Press: Cambridge, Mass., 2011, 496 pages.
Economists disagree on what ails the economies of continental western Europe, which are widely perceived to be underperforming in terms of productivity and other metrics. Is it some deficiency in their economic system—in economic institutions or cultural attitudes? Is it some effect of their welfare systems of social insurance and assistance? Or are these systems healthy enough but weighed down by adverse market conditions? In this volume, leading economists test the various explanations for Europe's economic underperformance against real-world data. The chapters, written from widely varying perspectives, demonstrate the shortcomings and strengths of some methods of economics as much as they do the shortcomings and strengths of some economies of western continental Europe. Some contributors address only income per head or per worker; others look at efficiency and distortions of national choices such as that between labor and leisure; still others look at job satisfaction, fulfillment, and rates of indigenous innovation. Many offer policy recommendations, which range from developing institutions that promote entrepreneurship to using early education to increase human capital.
JEL Classification:
[O100] Economic Development: General
Article number: 10522011032000